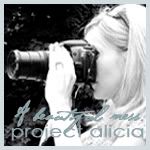 Name of Blog
: A Beautiful Mess
Name of Blogger
: Alicia
Blogging since
: January 2008
Number of followers today
: 269 Google Friend Connect followers
Average number of ppm (posts per month)
: Typically 30+
What the Blog is about
: Alicia's tagline is: "A blog dedicated to my personal journey through this so-called life. Project Alicia: the good, the bad and all the stuff in between".
Alicia is completing a Project 365, hosts a Wordless Wednesday linky, and posts recipes. She writes about the struggles and triumphs of parenting and everyday life.
Does the author respond to comments?
Yes