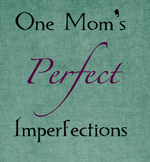 Name of Blog:
One Mom's Perfect Imperfection
Name of Blogger:
Courtney
Blogging since:
March 2010
Number of followers today:
210 GFC
Average number of ppm (posts per month):
Daily posts
What the Blog is about:
Photography, Christianity and her kids. She participates in photography memes, and writes about time and trips with her husband and kids.
Does the author respond to comments?
Yes!