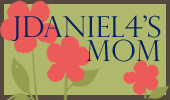 Name of Blog:
JDaniel4's Mom

Name of Blogger:
Deirdre
Blogging since:
May 2009
Number of followers today:
991
Average number of ppm (posts per month):
30+ (7-10 posts A WEEK!)
What the Blog is about:
Blog love giving (she blogs about blogs she reads), idea sharing, giveaways galore and more! This blog can't really be defined as a "Mommy Blog" but it's more than a giveaway blog as well. Her posts are honest, her parenting tips and passions are shared about in a straightforward way. She is also a joiner, she participates in themes like "
Muffin Tin Mondays
" and writes product reviews as well as participating in sharing Blog awards.
Does the blogger respond to comments?
Yes.